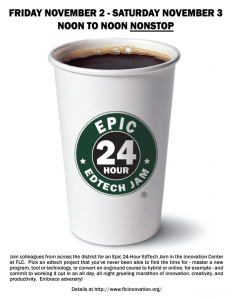 Join colleagues from across the district for an Epic 24 Hour EdTech Jam.  Pick an edtech project that you've never been able to find the time for – learn a new tool or technology, convert an onground course to hybrid or online, create audio/video lessons or OER resources – and commit to working it out in an all night grueling marathon of innovation, creativity, and productivity.  Embrace adversity!
November 2 – 3, noon to noon NONSTOP
FLC Innovation Center (FL1-130)
Wear comfortable clothes.
Bring your own device.*
Come prepared to work on a weighty project.
If you need Zack's help with anything, let him know ahead of time – he'll try and help you out.
*A limited number of desktops/laptops/netbooks will be available, if you don't have your own.